The Gizmo, Also Called Gizmotron
.... was an effects device for the electric guitar, invented ca. 1973 by the English rock musicians Kevin Godley and Lol Creme, whilst they were members of the British rock group 10cc. The Gizmo first featured on 10cc's instrumental Gizmo My Way, where it is appears as an interesting slide guitar effect and sustained background effect with the song arranged as a type of laid back beach music.
Later it appeared on 10cc's second album, Sheet Music (1974) on the track Old Wild Men. Its presence is heard as a unique shimmering background guitar effect. The Gizmo also appears sporadically throughout 10cc's 1976 How Dare You LP. It also appears distantly throughout their 1975 hit song I'm Not In Love but surfaces prominently in the middle and especially the closing sections of the song doing cello lines.
According to Paul Gambaccini's sleeve notes for Consequences, 10cc were unable to afford an orchestra for their early albums, so Creme and Godley imagined an effects unit that would enable a guitar to produce violin-like sounds (this was some years before the introduction of the polyphonic synthesizer and long before the development of digital sampling).
Its ability to create a wide range of sounds was central to the production of Godley and Creme's first post-10cc project, the 1977 triple concept album, Consequences. Godley and Creme left 10cc to create Consequences which was intended to be a promotional album to market the "Gizmo". Other Godley & Creme albums featuring the Gizmo include L and Freeze Frame.
The actual device, a small box which was attached to the bridge of the guitar, consisted of six small motor-driven wheels with serrated edges to match the size of each string.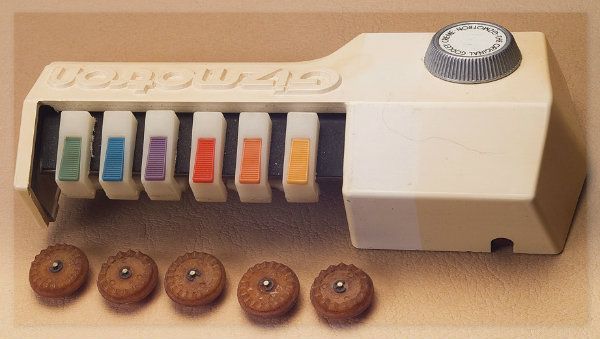 The continuous bowing action was activated by pressing one or all of keys located on the top of the unit. Pressing a key would allow the wheel to descend against a motor driven shaft and bow the corresponding string, while the other hand remained free to fret single notes or full chords. An extremely powerful sound could be created that changed dynamically depending on how hard or soft the wheels were pressed against the strings. The sound was also affected by the type of guitar strings (round-wound or flat-wound).
Two versions were planned - one for guitar and one for bass. Ultimately few Gizmotrons were made but bass versions were produced in a much larger quantity than guitar versions. Only the guitar version was used by Godley and Creme and 10cc in recordings.
---